February 25, 2019
Chad Miller recognized as Professor of the Week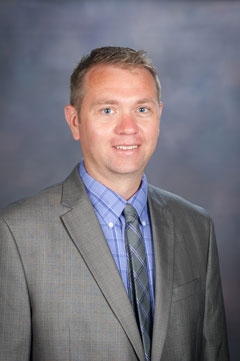 Chad Miller, associate professor of horticulture in the horticulture and natural resources department, was named Professor of the Week.
Miller joined K-State in 2011. As a part of his 80 percent teaching appointment, he teaches several courses including Plant Propagation, Landscape Plants I and II, and Preparing for you Horticulture Career. He also assists with department international study abroad experiences for undergraduates. With a significant teaching appointment, Miller has focused on developing and improving his scholarship of teaching and learning research, in order to improve the classroom and laboratory experiences for his students.
Miller is passionate about horticulture and connecting with students who have similar interests. Along with his teaching responsibilities, Miller advises undergraduate and graduate students in horticulture, serves as an advisor to Horticulture Club and Pi Alpha Xi, and is an active member of the K-State Chapter of Gamma Sigma Delta. He is active in many different professional societies and organizations, including the American Society for Horticulture Sciences, recently chairing the Certified Horticulturist Board.
Miller's research has primarily focused on applied aspects of plant physiology of different greenhouse plants and on landscape performance of various horticulture species. If you ask any of his students what his passion is, they will certainly tell you it is flower bulbs.
Miller has been recognized with several honors and awards, including the 2018 USDA Food and Agriculture Sciences Excellence New Teacher Award, 2017 Perennial Plant Association Academic Award, 2017 North American Colleges and Teachers of Agriculture Educator Award, 2015 Kansas State University College of Agriculture Innovative Teaching and Learning Award, 2014-2015 College of Agriculture Advisor of the Year, and Fall 2014 College of Agriculture Teaching Faculty of the Semester.
The Professor of the Week recognition is coordinated by Faculty Senate, the President's office, K-State Athletics and the Division of Communications and Marketing. Recipients are faculty members selected by Faculty Senate caucuses. Those selected are provided tickets to a men's home basketball game of their choosing and are recognized during halftime. This is just a small token of appreciation for those who teach at K-State.
Miller was recognized at the Feb. 23 home game.