February 20, 2019
Rollin' in the Dough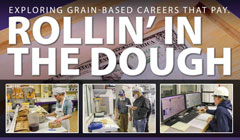 Still undecided about your major? Join us for the Rollin' in the Dough event from 5-7 p.m. Tuesday, March 5, in 123 Leadership Studies Building.
Come meet current grain science students and industry professionals on campus. You will learn about great career opportunities in a high-demand field that offers some of the highest starting salaries available to K-State graduates.
This event is free, but please RSVP to Brenda Heptig at bheptig@k-state.edu.