February 20, 2019
Fiction writer Laura Moriarty to read from her work at 3:30 p.m. on Friday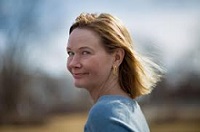 On Friday, Feb. 22, fiction writer Laura Moriarty will read from her work at 3:30 p.m. in Wildcat Chamber in the K-State Student Union. The event is free and open to the public.
Moriarty is the author of five novels, including "The Rest of Her Life" (2007), "The Center of Everything" (2009), and "The Chaperone" (2012), which has been optioned for film by the creators of "Downton Abbey." Her most recent novel is "American Heart" (2018).
Born in Honolulu, Moriarty earned her undergraduate degree in social work and her Master of Arts in English from the University of Kansas. She is currently professor of English and creative writing at the University of Kansas.
"No matter the genre she writes — be it dystopian, historical, or young adult fiction — Laura Moriarty's work is marked by a lively voice and a willful, complex young woman who struggles to gain control of her circumstances. We should all be acquainted with her unforgettable characters," said Katy Karlin, associate professor of English and creative writing.
More information about Moriarty's work is available from her website.
Moriarty's reading is sponsored by the English department in the College of Arts and Sciences.