February 20, 2019
Thomas Mueller to present electrical and computer engineering seminar Feb. 21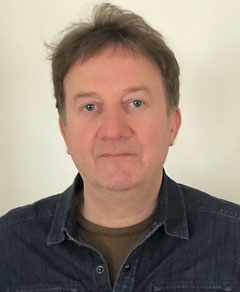 Thomas Mueller, research assistant professor in the Division of Biology, will present an electrical and computer engineering seminar at 3:30 p.m. Thursday, Feb. 21, in 1109 Engineering Hall auditorium. The title of his presentation is "Instrumentation and Computational Tools for Brain Functional Studies in Zebrafish."
Mueller is a neurobiologist in the Division of Biology. Collaborating with Punit Prakash, associate professor of electrical and computer engineering, his lab works with zebrafish as a genetically tractable model organism to study the neural underpinnings of emotion, social behavior and spatial cognition. Combining behavioral experiments and brain imaging methods, the lab aims to functionally and molecularly characterize the zebrafish amygdaloid complex, which is the regulatory core of the emotional brain in vertebrates. The results of this research will help to develop zebrafish models of human affective and cognitive disorders caused by dysfunctions of the amygdaloid complex.
In this seminar, Mueller will describe some of the ongoing projects and offer students opportunities to engage in interdisciplinary collaborations to develop novel behavioral paradigms, next-generation instrumentation and computational tools as well as automated or semi-automated behavioral experimental chambers.