February 11, 2019
Global Food Systems Focus Day offers interdisciplinary highlights, forum to identify opportunities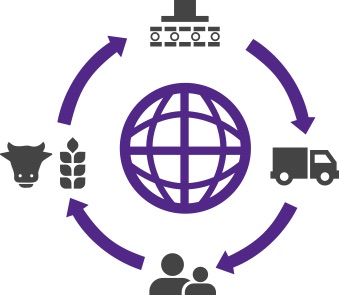 A Global Food Systems Focus Day from 1-6 p.m. on Thursday, March 7, in the K-State Student Union KSU Ballrooms will offer an opportunity for researchers across the university to recognize and promote the broad array of research, educational, and extension activities in the area of food at K-State as well as to plan the next steps for this important all-university research initiative.
The agenda will include the following.
Vice President for Research Peter Dorhout will deliver a welcome and brief presentation on the future direction of the Global Food Systems Initiative;
Maureen Olewnik, GFS coordinator, will look back at past efforts;
Recipients of 2015 GFS seed grants will provide overviews of projects and paths established for continued research;
A keynote talk will offer a fresh perspective;
Facilitated discussion will help determine future efforts and directions;
Panel discussions with two successful interdisciplinary teams led by Melanie Derby in mechanical and nuclear engineering and Ruth Welti in the Division of Biology will offer guidance and examples; and
A poster session displaying interdisciplinary research activities will allow networking and social time.
Refreshments will be provided at the poster session. All faculty, students, and staff associated with GFS work are welcome to attend. Attendance is free of charge.
Please register by Feb. 25. The registration form offers the option to submit a poster.