February 11, 2019
Apparel and textiles student selected to showcase collection at Kansas City Fashion Week
Submitted by College of Human Ecology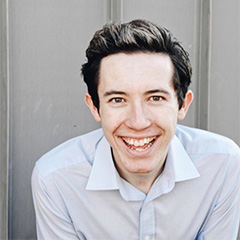 Jaxson Metzler, sophomore in apparel and textiles, Minneapolis, has been selected to showcase his design collection at the Kansas City Fashion Week, or KCFW.
Metzler, who is specializing in apparel design and production, will show his collection titled, "L'inverno," which is inspired by Vivaldi's "Winter" from "Four Seasons."
"Vivaldi used classical stylings and made them modern," Metzler said. "At his time, Vivaldi would have poems read aloud with each season, within each movement (season), while the song was being played. By doing this, Vivaldi was generations ahead of his time. The music creates a sense of drama and peace depending on what movement you are listening to. My collection is taking classic silhouettes and styles and making them dramatic and modern through fabric choice and silhouettes."
The selection committee for Kansas City Fashion Week was very impressed with Metzler's professionalism, work ethic and overall presentation of ideas for his collection.
"We are always eager to give new students an opportunity to showcase their own collections on the KCFW runway," said Teisha Barber, president of Kansas City Fashion Week.
Each season, Kansas City Fashion Week showcases several students throughout the week. Students are selected from all over the nation for this experience. Barber said Kansas City Fashion Week has a great relationship with the apparel and textiles program at K-State, having showcased many students from the program. He credits the program with producing good quality work and students who are extremely professional.
"Jaxson's selection to Kansas City Fashion Week recognizes his design ability, personal aesthetic and motivation," said Sherry Haar, professor of apparel and textiles. "His actions, as well as those of Mason Burns who showed in Portland last fall, will establish a desired culture amongst our students to have confidence in pursuing fashion week venues as external review, validation and exhibition of their designs."
Metzler was inspired to do apparel design and production after stumbling upon "Project Runway" as a kid.
"I was fascinated at how they could take an idea and transform it into a beautiful garment," Metzler said. "I have been designing ever since."
Following his time at K-State, Metzler hopes to grow his fashion design business or go into costume design for film and theatre. He will most likely move to New York City where he can explore both career opportunities.
"I am honored and excited to be chosen to showcase my collection at the Kansas City Fashion Week," Metzler said.
"L'inverno" will be shown on March 27 at Grand Hall at the Power and Light District in Kansas City. Ticket and show information for Kansas City Fashion Week can be found at kcfashionweek.com. Students interested in an opportunity to showcase their own collections on the Kansas City Fashion Week runway can apply on the website following the conclusion of the March show.