February 11, 2019
Kurt Gartner receives Award for Excellence in Latin Music and Jazz Education at national festival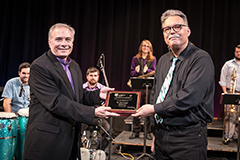 Kurt Gartner, K-State associate director of music and professor of percussion, has been recognized by the Johnny Pacheco Latin Music and Jazz Festival, Lehman College/City University of New York, for Excellence in Latin Music and Jazz Education.
The award was presented by Allan Molnar, festival executive producer and artistic director, on Nov. 15, 2018, during the performance of the K-State Latin Jazz Ensemble, which was a featured group of that evening's concert.
This is Gartner's third time at the festival as a clinician and performer. Last year marked the 10th year of the festival and the 50th anniversary of Lehman College. The Johnny Pacheco Latin Music and Jazz Festival at Lehman College is an annual event which provides performance and learning opportunities for talented young musicians who are studying music in New York City schools. The Pacheco Festival is committed to developing a worldwide audience via live internet streaming and other forms of broadcast media. More than 250 student musicians perform at this festival each year.
Faculty in the School of Music, Theatre, and Dance have received Grammy awards and nominations, and Emmy awards; produced recordings on international and national CD labels; published books and journal articles with international and national publishing houses and professional organizations; and performed and presented research in every continent in the world, except Antarctica. The School of Music, Theatre, and Dance is a part of the College of Arts and Sciences. Visit k-state.edu/mtd to learn more about music, theatre and dance at K-State.