February 5, 2019
APDesign Ekdahl Lecture speaker John Stram to discuss industrial, graphics and interior design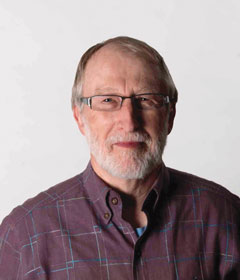 The Ekdahl Lecture Series, presented by the College of Architecture, Planning & Design, will host John Stram, industrial design consultant, at 4:30 p.m. Wednesday, Feb. 6, in Regnier Forum at Regnier Hall. The lecture is free and open to the public.
Stram's lecture, "Design at IBM '67-78," will focus on industrial design, graphics and interior design. With more than 46 years of professional award-winning design experience, Stram has served as industrial design/graphics manager at IBM, was director of the design division at Seal Furniture and Systems and was manager of design — p fixtures and temporary displays for American Greetings Corporation. He is an instructor/visiting lecturer for eight universities and colleges and is a member of the Fashion Merchandising Advisory Board at the University of Central Missouri.
Stram has been a member of Industrial Designers Society of America for 28 years and holds 11 U.S. design patents and two U.S. utility patents. He has 27 exhibited/design awards include being part of the permanent collection at New York's Museum of Modern Art, a two-year traveling exhibit with the Smithsonian Institution in Washington, D.C., and a three-month exhibit at Plastics as Plastics, at the Museum of Contemporary Crafts in New York. Stram has 27 works cited in design books, magazines and newspapers including: Form-Journal of Design, Product Design 2 and Industrial Design Magazine.
The Oscar S. Ekdahl Distinguished Lecture Series in Architecture and Design brings the finest professionals in the design and planning disciplines to APDesign and the K-State community. These individuals are selected to avail faculty, staff, students and regional professionals to the potency of design and planning in addressing the issues we face as a global society. The series honors Oscar Ekdahl who received his Bachelor of Architecture from K-State in 1933 and was a founding partner in Ekdahl, Davis, Depew, Persson Architects PA in Topeka.