February 5, 2019
Encourage an undergrad to apply for the Marjorie J. and Richard L.D. Morse Family and Community Public Policy Scholarship
Submitted by Sarah McGreer Hoyt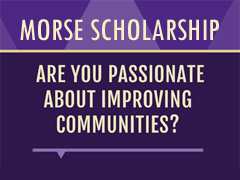 Do you know undergraduates who want to make the world a better place? Let them know that they can get started this summer! K-State Libraries is now accepting applications for the 2019 Marjorie J. and Richard L.D. Morse Family and Community Public Policy Scholarship.
The $3,000 scholarship provides funds to support a project or internship that gives a student the experience of working in community, state or federal government or providing service in the nonprofit sector.
The project or internship must encourage the development of public policy that improves the quality of family and community life. Applications will be accepted until March 25.
Since 2001, the scholarship has awarded more than $65,000 to 22 undergraduates who were interested in public policy and community service and chose to put those passions to work for the benefit of others.
The 2017 scholarship winner, Katelyn Pinkston, is a K-State senior in agricultural education. Pinkston used the Morse Scholarship to support her work as a mentor and undergraduate assistant for a new program called Training the Next Generation of Kansas Water Advocates, a conservation initiative and conference for Kansas teens.
Traveled to Nepal to support Tripur Kinder Academy, a private, English language school funded by a nonprofit.
Created a bookmobile to bolster early childhood literacy in northeastern Kansas.
Taught nutrition and biology to Wilson, Kansas, youth by engaging them with a community garden.
Let your students know about the award and application process by sharing the Morse Scholarship website: lib.k-state.edu/morse-scholarship.