November 28, 2018
Choral department's Festival of Holiday Music to feature special guest gospel artist Curtis Gulledge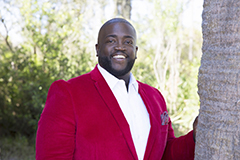 The Kansas State University School of Music, Theatre, and Dance Choral Division will present its annual Festival of Holiday Music at 3 p.m. Sunday, Dec. 2, at First United Methodist Church, 612 Poyntz Ave.
The event will feature special guest artists, gospel singer Curtis Gulledge and the K-State choral ensembles: Collegiate Chorale, Concert Choir, Women's Choir, Collegium Musicum and In-A-Chord.
With a full background in music and acting, Gulledge is currently the vocal music director for the Dream Life Center Church in Orlando, Florida, and vocal coach and founder of C. Sharply Management. Read Gulledge's full professional biography.
Tickets can be purchased online with a credit card through Friday, Nov. 30, via the School of Music, Theatre, and Dance box office. Any remaining tickets will be available at the door before the concert. Cash and check will only be accepted at the door.
For more information, visit the event website.
The School of Music, Theatre, and Dance is a part of the College of Arts and Sciences. Visit its website to learn more about music, theatre and dance at K-State.