November 28, 2018
K-State Launch awards $7,500 to student entrepreneurs
Submitted by Brent Fritzemeier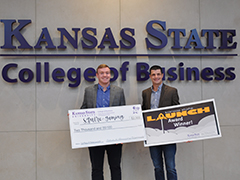 A Kansas State University competition has awarded 10 student business ideas with a total of $7,500 in prize money.
The K-State Launch competition gives students experience in the process of pitching a business proposal. The competition is organized by the Center for the Advancement of Entrepreneurship in the College of Business Administration and is open to all students and majors in the university. In total, 82 student teams entered the competition this year by submitting a feasible written plan, which was used to narrow the field to 10 finalists.
The finalists then each had the opportunity to deliver a business pitch to a panel of judges that consisted of local entrepreneurs, bankers and investment experts which had $7,500 in prize money to distribute to the ideas and entrepreneurs they felt showed the most promise.
"K-State Launch is an opportunity to showcase the tremendous entrepreneurial talent at K-State," said Chad Jackson, director of the Center for the Advancement of Entrepreneurship. "The real-world experience of pitching a business in front of the type of business experts we have on our panel is invaluable to these students, and provides real-world feedback and support to launch companies within our state."
In the end, all 10 of the businesses were awarded cash prizes by the judges' panel, with the top team also being chosen to represent Kansas State University at this spring's Kansas Entrepreneurship Challenge.
Winning the $2,000 grand prize was the two-person team of Paul Baker, senior in marketing, and Malik Bieberle, senior in construction science and management, for their pitch of Squire Gaming, a mobile app that will provide the average video game player access to on-demand coaching from professionals through a safe and efficient platform.
Receiving one of two $1,000 honorable mention awards was Dylan Roney, sophomore in business administration, for his business Pet Potty Patch, a compostable indoor bathroom mat made from natural resources for pets.
The second $1,000 honorable mention award went to Dustin Aherin, a graduate student in pathobiology, for his business CattleList, a modern digital platform that allows livestock buyers to find the best genetics available through a smart search for cattle across multiple sales and directories.
Each of the remaining seven finalists were awarded $500 per team.