November 28, 2018
Vote for the best picture book of 2018 at the 11th annual Mock Caldecott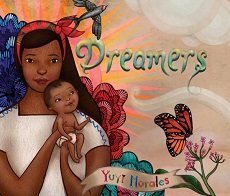 What's the best picture book of 2018? You can help decide at this year's Mock Caldecott.
The event will begin at 1:30 p.m. Saturday, Dec. 1, at the Manhattan Public Library, 629 Poyntz Ave.
Sponsored by the Children's and Adolescent Literature Community and the English department's program in children's literature in the College of Arts and Sciences and by the Manhattan Public Library, the Mock Caldecott includes a discussion of the most distinguished picture books of 2018, followed by a vote to determine this year's winner.
The American Library Association awards the Caldecott Medal to the most distinguished American picture book for children and recognizes the runners-up. The medal is named for Randolph Caldecott, a 19th-century English illustrator.
"Now in its 11th year, the Mock Caldecott brings students, faculty and community members together to enjoy the best picture books published in the past year, assembling our short list from prominent review sites at Publisher's Weekly, the New York Times, and librarian Betsy Bird's blog for the School Library Journal," said Karin Westman, head of the English department and faculty advisor for the Children's and Adolescent Literature Community. "After discussing the short list, we then decide our own award-winning book and honor books."
Selected picture books will be available for review from 1:30-2:30 p.m. A brief presentation at 2:30 p.m. will describe the criteria for the award, followed by discussion and a vote to determine this year's winner.
Phil Nel, university distinguished professor of English, values the opportunity to enjoy the art of the picture book and gain new perspectives.
"Need a break from snow and end-of-term stress, or some inspiration for the weeks ahead? I recommend art and stories. This Saturday, come browse through and discuss the best picture books of 2018," said Nel.
This year's contenders include Yuyi Morales's "Dreamers," Oge Mora's "Thank you, Omu!," Grace Lin's "A Big Mooncake for Little Star," and Laura Vaccaro Seeger's "Blue."
Results will be posted to the English department's Twitter feed and Facebook page.
Participation at the event will count for "Service to the Profession: Professional Growth" for education majors. For more information, contact chalc@k-state.edu or english@k-state.edu.