November 8, 2018
Scientist continues work on ceramics to create 'super' turbines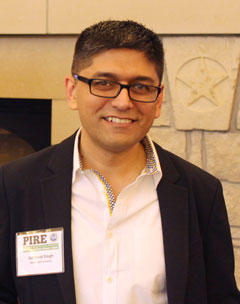 Gurpreet Singh, Kansas State University associate professor of mechanical and nuclear engineering, is leading a study funded by the National Science Foundation Partnerships for International Research and Education, or PIRE.
The research objective is to generate new fundamental knowledge on structure-property-processing of multicomponent silicon-based polymer-derived ceramic, or PDC, fibers and ceramic matrix composites or CMCs, for gas turbine engine applications by leveraging support from national labs and foreign university partners. Ceramics frequently have much higher melting points than metal alloys, and thus hold the promise of "super" turbines. Multicomponent PDCs such as silicon oxycarbide and silicon carbonitride based CMC engine parts hold the promise of quantum leaps in the operating temperature of gas turbines, which may increase engine thrust by 25 percent, while decreasing fuel consumption by approximately 10 percent.
The following are some of the accomplishments by the PIRE team of researchers during the first year of the program.
A two credit hour seminar course — Glasses, Amorphous Materials EMS 289C — was organized by co-principal investigator Alexandra Navrotsky in the spring 2018 semester. The seminar series was live streamed via Zoom, for students and audiences across the globe. View video recordings and slides.
Five undergraduate and two graduate students in the PIRE program had the opportunity to pursue their research in Europe through the research abroad experience. The students traveled to PIRE partner institutions — University of Limoges and Sorbonne University in France; Institute of Science and Technology for Ceramics, University of Padova and University of Trento in Italy; and Technical University of Darmstadt in Germany — where they were mentored by world renowned experts in the field of PDCs. Outside the laboratory setting, the students were able to interact with locals and gain a deeper understanding of European culture and values.
The first NSF-PIRE-PDC workshop and retreat was hosted July 16-18 at the K-State Alumni Center. The workshop was primarily designed to promote face-to-face interactions among PIRE members, and expand the scope of PDC fibers through research and education; it was open to anyone interested in the field of PDCs and high temperature CMC materials. The workshop had more than 45 attendees and 25 speakers covering a wide range of topics. Sixteen students attended the conference where they were able to showcase projects they had worked on over the summer.
Two scientific papers were published in peer reviewed journals: Journal of Physics D: Applied Physics and Materials. These scientific papers have been deposited in NSF Public Access Repository. A third scientific paper has been published in the Journal of the American Ceramic Society and will be deposited in NSF-PAR. Singh was awarded Patent No. 9,908,905, for his work titled, "Aluminum-Modified Polysilazanes for Polymer-Derived Ceramic Nanocomposites."
Samuel Bernard from the University of Limoges organized a symposium on PDCs at the seventh International Congress on Ceramics, which was hosted June 17-21 in Foz do Iguaçu, Brazil. Philippe Miele from the University of Montpellier, France, delivered the keynote lecture at Materials Science and Engineering 2018, which was hosted from Sept. 26-28 in Darmstadt, Germany. Ralf Riedel from TU-Darmstadt was the co-organizer of the MSE Congress; he also chaired a session at the MSE Congress.
The National Aeronautics and Space Administration, via Task Orders issues by the International Space Station Program Office at Johnson Space Center, has agreed to provide funding for a proposal submitted by Made in Space. Made in Space proposed to develop payloads for manufacturing small turbine blisks that would benefit from the unique properties imbued on parts manufactured in a microgravity environment. NASA has agreed to sponsor two Made in Space pilot payloads toward turbine engine development. One of the payloads is for manufacturing ceramic parts from a pre-ceramic polymer. This payload will test suitability of pre-ceramic polymers developed in Singh's lab for 3D printing in space. This unique material is derived from the NSF-PIRE funded ceramics research.
"I am very excited for the future of PDCs and the camaraderie that being part of such a huge collaboration brings," Singh said.
This research was funded by the National Science Foundation Partnerships for International Research and Education grant No. 1743701.
For more information, contact Singh at gurpreet@k-state.edu.