August 17, 2018
Erin Good joins Kansas State University's legal team
Submitted by Office of General Counsel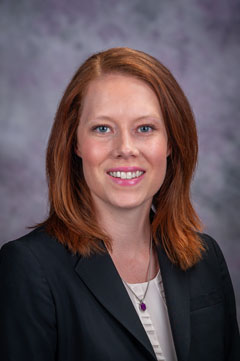 Erin Good, a civil litigation attorney with experience representing governmental entities, has joined the Office of General Counsel as associate general counsel. She replaces Robert Large, who relocated to Florida in May.
The Office of General Counsel provides legal advice to university administrators, faculty, staff and student leaders on the full range of legal issues facing higher education, such as constitutional and administrative law, civil rights, employment matters, regulatory compliance, student rights, contracts, corporate and tax law, intellectual property and more.
"I am extremely pleased that Erin has joined our legal team. She has a diverse legal background that is particularly well-suited to the university's legal needs," said Cheryl Strecker, K-State's general counsel. "I know that she will be a valuable asset to our office and to the university."
Good comes to K-State after serving as an associate attorney with a private firm in Wichita, representing clients in civil litigation and providing general legal advice in a variety of matters. Her practice focused on the representation of governmental entities — school districts, counties and municipalities — with a focus on employment law, education law and civil rights. Previously, she served as a research attorney for the Kansas Court of Appeals. She also interned in the Kansas Attorney General's Office and the U.S. District Court for the District of Kansas.
"I am very proud to represent Kansas State University and serve as part of its legal team," Good said. "I am excited to be in Manhattan and look forward to becoming involved in the great community here."
Good earned her Juris Doctor from Washburn University School of Law in 2011, serving as managing editor for the Washburn Law Journal. She earned her bachelor's degree in journalism from the University of Kansas in 2008. She is a member of the National Association of College and University Attorneys, Kansas Bar Association, Kansas Women Attorneys Association, and Riley County Bar Association.