August 17, 2018
JMC faculty present at journalism and mass communication educators conference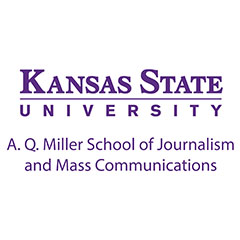 Nine A.Q. Miller School of Journalism and Mass Communications faculty members presented at the Association for Education in Journalism and Mass Communication, or AEJMC, conference Aug. 5-9. in Washington, D.C. The association's mission is to advance education in journalism, foster scholarly research, cultivate better professional practice and promote the free flow of communication.
At the Aug. 7 business meeting of the AEJMC Elected Standing Committee on Teaching, the committee appointed Raluca Cozma, associate professor and associate director of graduate studies and research, as vice president. As part of that position, she will coordinate the association's teaching competition this coming year, which will focus on teaching media literacy in the age of fake news. Cozma will become president of the committee at the 2019 conference.
Nikhil Moro, director, acted as co-host for the social K-State organized with Michigan State University and the University of Tennessee. Alumni from the D.C. area attended. Louise Benjamin, College of Arts and Sciences' associate dean for academic affairs, attended the conference in support of JMC faculty.
The following JMC faculty members presented at the conference:
Raluca Cozma, associate professor and associate director of graduate studies and research, presented "How Do Lebanese Television Channels Engage with Twitter? An Exploratory Study into Its Uses" with colleague Claudia Kozman, Lebanese American University.
Ian Punnett, incoming chief operator and faculty advisor for KSDB 91.9, served on a panel for Law and Policy and Electronic News Divisions.
Danielle Myers LaGree, assistant professor, presented on "Younger Millennials' Media Use: A Qualitative Gratifications and Media Repertoires Approach" with colleague Margaret Duffy, Missouri.
Sam Mwangi, associate professor; Bonnie Bressers, associate professor; and Steven Smethers, associate director for undergraduate studies, presented "Open-Source Media Project: Community Attitudes After Five-Year Organizational Evolution" with colleague David Bondy Valdovinos Kaye, Queensland University of Technology.
Alec Tefertiller, assistant professor, presented on "Post-Network Television: Motivations, Behaviors, and Satisfaction in the Age of Netflix" with colleague Kim Sheehan, Oregon. Tefertiller also presented "In the Dark but Not Alone: The Fear of Missing Out, Social Capital, and Social Gratifications of Moviegoing" with colleague Lindsey Maxwell, Southern Mississippi and David Morris II, Oregon. In addition, Tefertiller and Maxwell presented "Certified Fresh: Rotten Tomatoes, Gratifications, and Motivations for Cinema Attendance."
Xiaochen Zhang, assistant professor; and Jonathan Borden, instructor, presented "Ultimate Crisis? An Examination of Linguistics and Ultimate Attribution Error in International Organizational Crisis." Zhang and Borden also presented "Linguistic Crisis Prediction: An Integration of Linguistic Categorization Model in Crisis Communication."
The 2019 AEJMC conference will take place Aug. 7-10 in Toronto.
The A.Q. Miller School of Journalism and Mass Communications, housed in the College of Arts and Sciences, is a nationally accredited program and just one of two accredited schools in the state of Kansas. To learn more about K-State JMC, visit jmc.k-state.edu.