May 9, 2018
New SGA president, vice president at Kansas State Polytechnic make peers' needs focus of their leadership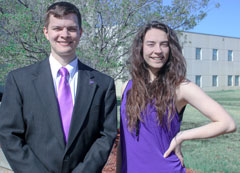 The new Student Governing Association, or SGA, leaders on the Kansas State University Polytechnic Campus have been sworn in for the 2018-2019 school year and plan to use their position to advocate for the needs of their peers.
Christian Coker, junior in professional pilot, was elected Student Governing Association president in March alongside his running mate Shanna Walker, junior in airport management and professional pilot, who is serving as vice president. The pair ran on continuing the past administration's focus of student involvement around campus as well as a commitment to helping students' voices be heard.
"This campus is our place of learning and living, where we spend much time and money, so it is important to Shanna and me that our fellow students' point of view is always recognized, listened to and considered," Coker said. "With the current dean retiring and an interim dean transitioning into the position soon, we felt concentrating on that communication would be even more essential this year."
Both Coker and Walker have been engaged with student government previously. Last term, Coker served as vice president and was a senator representing the aviation program the beginning of his sophomore year. Walker entered the Student Governing Association as an aviation senator her freshman year and then chaired Programming Board, which reports to the Student Governing Association, as a sophomore.
"When I started at Kansas State Polytechnic, I wanted to be involved in something, and joining SGA gave me the opportunity to meet other students while making a difference around campus," Walker said. "As vice president, I hope to help other students have that same fulfilling experience."
In addition to her role with the Student Governing Association, Walker is a peer mentor for Student Support Services, assisting students with various parts of college life, such as tutoring, setting up advising appointments and finding resources on campus. She is a member of the student chapter of the American Association of Airport Executives, participates in the student organization Christian Challenge, and works with new students as a uBelong mentor.
A graduate of Cair Paravel-Latin School in Topeka, Walker began pursuing aviation as a teenager with her father's love of the field her inspiration. Currently, she is working on her instrument rating and hopes to have a career as a corporate or charter pilot.
Most of Coker's involvement on campus is derived from his work as Student Governing Association vice president. He was the chair of the Fall Career Fair committee in 2017 and has attended various campus ribbon-cutting ceremonies as the organization's representative. Coker also has connected with prospective students through the admissions program Polytechnic Wildcat for a Day and is a member of a fitness club, called Polytechnic Powercats.
Coker is from Tulsa, Oklahoma, and graduated from Broken Arrow High School. He is currently working on his commercial certificate and hopes to have a career as a demo or test pilot.
Senator positions serving each of the campus's program areas — aviation, engineering technology, human development and family science, social work and technology management — are still available. Contact Coker at motox16@k-state.edu or Walker at shanna52@k-state.edu for more information about these opportunities.
Coker and Walker's term as study body president and vice president of Kansas State Polytechnic will be for one year.