Postgraduation report shows success for Kansas State University graduates
Wednesday, May 9, 2018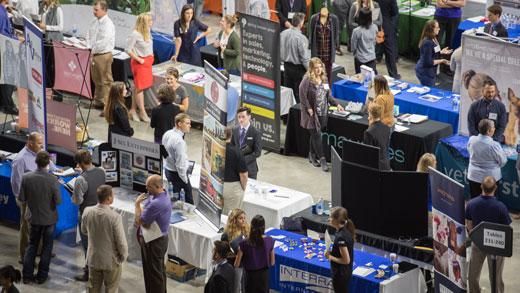 Kansas State University's student postgraduation placement rate has improved to 95 percent after
enhancing

several services, including the All-University Career Fair. | Download this photo.



MANHATTAN — Ninety-five percent of Kansas State University 2016-2017 undergraduates are employed or continuing their education within six months of graduation, according to the university's postgraduation report.

Kerri Keller, executive director of the Kansas State University Career Center, said this is the highest placement rate in the last two decades at least. The placement rate is even higher for master's degree graduates at 96 percent and doctoral graduates at 97 percent.

"I think the key to this increase is our campus culture that is committed to the career readiness of students," Keller said. "Mentors, internship coordinators, faculty, advisors, coaches and staff spend time talking with students about their aspirations and connect them with opportunities to turn their dreams into realities."

The Career Center averages about 10,000 online accounts every year, which tripled after the university eliminated the user fee in the early 2000s. Over the last decade, the university also enhanced many other services for students, such as expanding the All-University Career Fair from a two-day to a three-day fair and offering the Career Closet, which helped nearly 1,000 students find professional clothing for interviews during fall 2017.

"We've had consistent upward trending of more students attending career fairs, meeting more students through presentation outreach, advising more students through drop-in and scheduled appointments and fast-rising usage of services like our Career Closet," Keller said.

Many of the services that help students find employers are in the Berney Family Welcome Center, which opened in 2016 to provide one central location for student success. The center helps prospective and current students proceed from college to career. Through the Career Center's partnership with the K-State Alumni Association, services also are provided to alumni for a lifetime of career change assistance.