April 6, 2018
Kansas State Veterinary Diagnostic Laboratory appoints interim associate director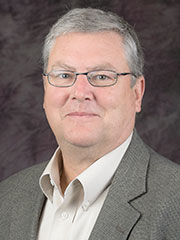 The Kansas State Veterinary Diagnostic Laboratory, or KSVDL, announces the appointment of Gregg Hanzlicek as interim associate director.
"In the position of interim associate director, Dr. Hanzlicek will lead our client relations, service and outreach efforts," said Jamie Henningson, interim director of the lab. "I look forward to having Dr. Hanzlicek join me in the leadership of KSVDL."
Hanzlicek is a Kansas native. He earned a Doctor of Veterinary Medicine from Mississippi State University in 1991, and then spent 16 years as a bovine practitioner. Afterward, he left practice and completed a doctorate in epidemiology from the Kansas State University College of Veterinary Medicine in 2010.
Hanzlicek was then appointed as assistant professor in the College of Veterinary Medicine and he has served as the director of production animal field investigations and outreach within the KSVDL. His primary duties include communicating with veterinarian clients, providing continuing education to veterinarians and their producers and participating within a diagnostic laboratory team conducting disease outbreak investigations both in Kansas and the surrounding region. Hanzlicek's other interests include herd disease surveillance, assessing animal disease risk factors and dairy/cow-calf production medicine.
The KSVDL is a full-service laboratory offering a complete range of diagnostic services for all species. For more information, please visit the KSVDL website at ksvdl.org.