April 6, 2018
Veterinary students receive scholarship prizes in swine association poster competition
Submitted by Communications and Marketing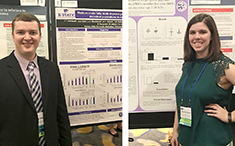 Kansas State University has a pair of veterinary students who were among the scholarship prize recipients in the recent American Association of Swine Veterinarians' Veterinary Student Poster Competition.

The top 15 poster abstracts were chosen out of 43 submissions.

Jordan Gebhardt, a third-year veterinary student from Cedar Springs, Michigan, had the top student poster, "Medium chain fatty acids improve growth and alter fecal microbial populations in nursery pigs." This is the second year in a row Gebhardt won the top prize of $500 in the competition.

Laura Constance, a second-year veterinary student from Clyde, North Carolina, received a $200 scholarship prize for her poster, "Pre-challenge microbiome composition is associated with improved weight gain in pigs after vaccination with a porcine reproductive and respiratory syndrome (PRRS) modified live virus (MLV) vaccine followed by challenge with PRRSV and porcine circovirus type 2 (PCV2b)."

Both Constance and Gebhardt are also studying for doctorates through a concurrent Doctor of Veterinary Medicine/Doctor of Philosophy program in Kansas State University's College of Veterinary Medicine. Their primary mentors are Megan Niederwerder and Steve Dritz, respectively, who are both swine researchers in the diagnostic medicine and pathobiology department.