March 7, 2018
Strengths in Action: MyStrengthStories Brought to Life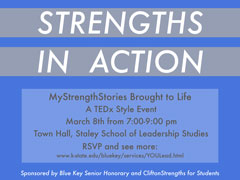 Kansas State University Blue Key Senior Honorary, in conjunction with K-State CliftonStrengthsfor Students, will host Strengths in Action: MyStrengthStories Brought to Life from 7-9 p.m. Thursday, March 8, in Town Hall at the Leadership Studies Building.
The planning committee, with representatives from Blue Key, the Staley School of Leadership Studies and K-State CliftonStrengths, invite students, faculty, staff and community members to attend this TED-style event.
The following speakers will share their stories of how CliftonStrengths has influenced their way of living, working, learning and being:
Sarah Brunkow, Manhattan resident and development chairman for Lutheran Women in Missions.
Vedant Kulkarni, freshman in business administration.
Matt Zajic, junior in marketing, and Karina Michel, senior in communication sciences and disorders.
Susan Riforgiate, associate professor and internship director in the communication studies department.
Jana Thomas, graduate student in mass communications.
Jill Trego, associate vice president of talent, culture and human resources.
Olivia Rogers, freshman in pre-journalism and mass communications.
Refreshments will be provided and the event is free and open to the public. RSVPs are requested.
This talk is part of StrengthsWeek, a weeklong programming effort for K-State community members to explore and engage in their top five strengths. For more information regarding this weeklong event, visit CliftonStrengths online.
For questions and additional information, contact Molly Bassette, student chair, at mabassette@k-state.edu, or Myranda Bower, CliftonStrengths graduate student, at mlbower@k-state.edu.