March 7, 2018
KSDB wins two national awards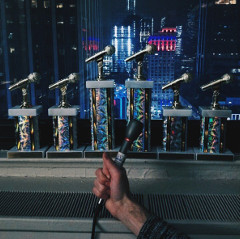 Student staff from K-State's student-run radio station recently traveled to New York City to receive several national awards at the Intercollegiate Broadcasting System Conference. Entries from KSDB students were finalists in eight categories.
KSDB took home two top awards in the categories of Best Campus News Coverage and Best Artist/Band Interview.
The other six finalist categories that KSDB received trophies in were Best College Radio Station — more than 10,000 students — Best Station Promo, Best Sports Talk Program, Best Use of Facebook, Best Phone App and Best Sports Director.
The awards were judged by the Intercollegiate Broadcasting System, a national, nonprofit organization representing college radio since 1940.
KSDB broadcasts 24/7/365 on 91.9 FM, on applications for iOS and Android, online at ksdbfm.org, on campus cable 42.1, TuneIn, NextRadio and Amazon Alexa.