February 19, 2018
Cats For Inclusion Community Dialogue today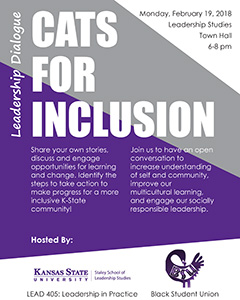 Share your own stories, discuss and engage opportunities for learning and change. Identify the steps to take action to make progress for a more inclusive K-State community.
The Cats for Inclusion Community Dialogue will be 6-8 p.m. Monday, Feb. 19, in Town Hall at the Leadership Studies Building. Doors open at 5:30 p.m.
Join Cats for Inclusion for an open conversation to increase understanding of self and community, improve our multicultural learning, and engage our socially responsible leadership.
The event is hosted by Leadership 405: Leadership in Practice and the Black Student Union.