Living Democracy program explores civil discourse, continues KSUnite mission
Monday, Feb. 19, 2018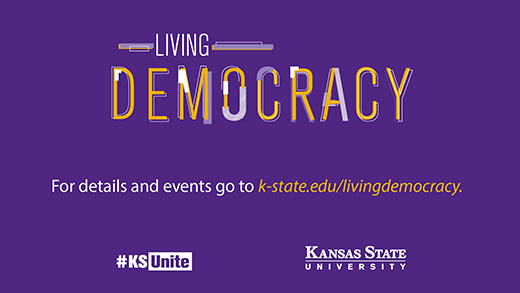 The Living Democracy project, a part of KSUnite, is helping the Kansas State University community explore the challenges and potential of living in a democratic society.
MANHATTAN — The Living Democracy program at Kansas State University is helping the community explore civil discourse, social justice and democracy throughout the spring semester.

The program, organized by Los Angeles-based artist Linda Pollack, offers a platform to explore and discuss the challenges and potential of living in a democratic society. Pollack has recruited a variety of guest speakers to discuss the U.S. Constitution and other topics such as voting, health care and public housing.

"Students who participate will meet likeminded people who are interested in exercising public life," Pollack said. "Instead of saying 'We are K-State family,' they will uncover the meaning of the K-State family."

The program is part of KSUnite and is being made possible by the university's art department through a collaboration with the Union Program Council, Marianna Kistler Beach Museum of Art, A.Q. Miller School of Journalism and Mass Communications, Black Faculty and Staff Alliance, and several other university and student groups. KSUnite is a communitywide program to uphold the value of human diversity and inclusion.
The Living Democracy activities started with the Prairie Fire Printmakers, a student group, which has created the Democracy in Print gallery that runs through March 9 at the William T. Kemper Art Gallery in the K-State Student Union. Along with a student poster display, the gallery serves as a lounge where students can discuss what's on their minds. It also provides space for a new project where students can sign up for a blind interview and get to know others in their community.
The following events also are part of the Living Democracy project at Kansas State University; all are free and open to the public:
• Micah Kubic, executive director of the American Civil Liberties Union of Kansas, will focus on the right to vote and how Kansas is playing a large role in national voting laws at 1 p.m. Tuesday, Feb. 20, in the Union's Wildcat Chamber.
• Award-winning filmmaker Peter Bratt will speak and screen his new documentary, "Dolores," a portrait of United Farm Workers co-founder Dolores Huerta, at 7 p.m. on Thursday, Feb. 22, at the K-State Alumni Center.
• Mary Beth Tinker, a free speech activist, will present the lecture "The Constitutional Rights of Students and Young People with Regard to Freedom of Expression" at 2:30 p.m. Saturday, Feb. 24, in the Union's Wildcat Chamber. In the 1969 Supreme Court case, Tinker v. Des Moines Independent School District, the court ruled Tinker could not be punished for wearing a black armband in school to support a Vietnam War truce.
For more information and a full event listing, visit k-state.edu/livingdemocracy or livingdemocracy.info.