February 19, 2018
RSVP deadline for Boyer/Switzer Lecture and Luncheon is Feb. 21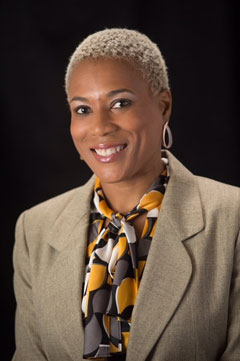 The Black Faculty and Staff Alliance will present the Boyer/Switzer Lecture and Luncheon at noon Friday, Feb. 23, in the Bluemont Room of the K-State Student Union.
The lecture series began in 2014 to honor two K-State and Manhattan legends, Rev. James Boyer and Veryl Switzer.
Guest speaker Tyjaun Lee, president of the Penn Valley campus at Metropolitan Community College in Kansas City, will present "Being Brown in 2018," and will address current diversity issues and how we can face them head on. Lee brings a wealth of knowledge and experience in higher education and has been nationally recognized for her exceptional leadership capabilities and her work with underrepresented and underprivileged students.
The luncheon is free to all; however, you must RSVP as seating is limited. Walk-ins will only be allowed if we have not reached capacity. Please confirm your attendance online or by contacting Deanne Woodard at deannewoodard@k-state.edu by Wednesday, Feb. 21.
Rev. Boyer was hired to teach graduate courses at K-State in the College of Education in 1971. He also helped establish and implement the K-State Cooperative Urban Teacher Education master's degree program in the Greater Kansas City area. Rev. Boyer died in May 2017, leaving a legacy of greatness for us all.
Switzer was a standout football and track star in high school and at Kansas State University. He spent a decade working at the Chicago Board of Education before returning to K-State in an administrative capacity in 1969. He held several positions, both in the academic and athletic departments before retiring.