February 14, 2018
Woodland burning workshop planned Feb. 28
Submitted by Jennifer Williams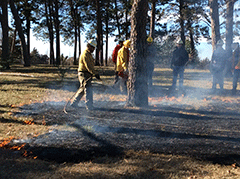 Burning is Beneficial for your Woodlands workshop will be from 9 a.m. to 3 p.m. Feb. 28 in Paola.
Learn about the benefits of fire and how to implement a prescribed burn in your woodlands. Topics include fire effects, when to burn, fuels, ignition patterns, equipment needed, and much more.
An afternoon session will take place in the field to talk about site considerations and an equipment show-and-tell.
To register, call the Miami County Conservation District, 913-294-3751, ext. 3
To view all Kansas Forest Service events, visit kansasforests.org/events/index.html.