October 24, 2017
Gravel to present 'Where We Want to Live — Reclaiming Infrastructure for a New Generation of Cities'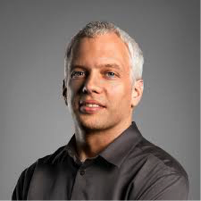 The College of Architecture, Planning & Design, or APDesign, will host Ryan Gravel, urban planner and founding principal at Sixpitch, who will lecture as part of the Oscar S. Ekdahl Distinguished Lecture Series in Architecture and Design.
Gravel will present "Where We Want to Live — Reclaiming Infrastructure for a New Generation of Cities," at 4:30 p.m. Wednesday, Oct. 25, in Regnier Forum, 1117 Regnier Hall. The lecture is free, open to the public and is sponsored in part by the K-State Governing Association's fine arts fee.
Gravel is an urban planner, designer and author working on infrastructure, concept development and policy as the founder of Sixpitch. His master's thesis launched the Atlanta Beltline, which through 15 years of progress, is now changing both the physical form of his city and the decisions people make about living there. Alongside other projects at Sixpitch and research on similar "catalyst infrastructure" projects around the world, Gravel's book, "Where We Want to Live," published by St. Martin's Press in 2016, investigates this cultural side of infrastructure, describing how its intimate relationship with our way of life can illuminate a brighter path forward for cities.
The Atlanta Beltline was born in academia as a simple idea for a better way of life. Now, it's a $4 billion infrastructure project in the early stages of implementation. Its original author, Gravel, will describe how this catalyst project came to life, what it means, and why it matters. Building on the title of his new book, "Where We Want to Live," Gravel will expand on these ideas, sharing how similarly-transformative projects — from the rail park in Singapore to the concrete Los Angeles River — represent a new kind of cultural momentum that will reshape the way we build cities. He'll conclude with current work on the Atlanta City Design, a daunting endeavor to go deeper than the Atlanta Beltline and discover the city's civic identity. By organizing around its core values, the city will ensure that its anticipated growth will deliver the best version of Atlanta, not some other place that people don't like or recognize anymore.
The Oscar S. Ekdahl Distinguished Lecture Series in Architecture and Design brings the finest professionals in the design and planning disciplines to APDesign and the K-State community. These individuals are selected to avail faculty, staff, students and regional professionals to the potency of design and planning in addressing the issues we face as a global society. The series honors Oscar Ekdahl who received his Bachelor of Architecture from Kansas State University in 1933 and was a founding partner in Ekdahl, Davis, Depew, Persson Architects PA in Topeka.