October 24, 2017
Hallaq's documentary recognized by 2017 Videographer Awards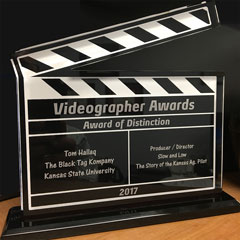 The 2017 worldwide Videographer Awards names Tom Hallaq, assistant professor in the A.Q. Miller School of Journalism and Mass Communications, among the Award of Distinction winners for his documentary "Slow and Low: The Story of the Kansas Ag. Pilot."
Hallaq's documentary was inspired by his grandfather who was born and raised on a farm near Beloit and spent his professional career in the aviation industry. The documentary premiered at Kansas State University in March 2017 and aired on Father's Day on KTWU-TV, the PBS station in Topeka. Funding was provided through the Academic Excellence grant at Kansas State University.
Hallaq's crew for the project included two graduate students, Nick Homburg, who is now a journalism and mass communications instructor and associate producer; and Karly Craig, editor. Both contributed to the videography along with Safiya Woodard, an undergraduate student. All students are from the A.Q. Miller School of Journalism and Mass Communications at K-State.
The Videographer Awards is one of the most coveted awards in the video industry. Since 1994, thousands of production and communication professionals have entered their best and most creative work. The goal of the Videographer Awards is to identify and recognize the artisans who excel in the scope of their own environment. Winners range from network news operations to large production companies and freelancers and include international advertising agencies and student producers. Winners are listed on the Videographer website and in next year's Call for Entries, a brochure that is seen by tens of thousands of decision-making communication professionals.
About 1,400 entries from across the U.S. and 13 other countries were in the Videographer Awards 2017 competition.
The Award of Distinction was awarded for projects that exceeded industry standards. Approximately 15 percent of the entries won this award. Award of Distinction winners are listed on the Videographer Awards website.
Judges are industry professionals who look for companies and individuals whose talent exceeds a high standard of excellence and whose work serves as a benchmark for the industry. Judging for the Videographer Awards was conducted this year by the Association of Marketing and Communication Professionals. The association is the industry's preeminent third-party evaluator of creative work. The organization has judged more than 200,000 entries since its formation in 1994. Judges are chosen based on their extensive experience and proven creativity in the video field.