Peter and Veronica Mallouk Give Back Program donates $500K to Kansas State University for at-risk youth
Tuesday, Oct. 24, 2017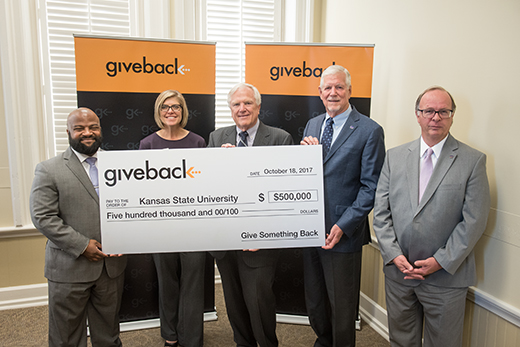 Bob Carr, center, presents a $500,000 check to Kansas State University President Richard B. Myers, second from right, to launch a partnership between the university and Give Something Back, a foundation that assists low-income students. Also pictured, from left, are Bryon Williams, assistant director of community outreach at the university's New Student Services; Stephanie Bannister, the university's assistant vice president for student life and director of education and personal development; Carr; Myers; and Larry Moeder, the university's associate vice president for student life and executive director of admissions and student financial assistance. | Download this photo.


MANHATTAN — Low-income, at-risk students will have a greater opportunity to graduate college in four years without crushing debt because of a new partnership between Kansas State University and the Peter and Veronica Mallouk Give Back Program.

The program is the Kansas-based arm of Give Something Back, or Give Back, a nonprofit organization founded by philanthropist, entrepreneur and author Robert O. Carr that provides scholarships and mentoring to students who have faced economic hardships or other challenges such as the incarceration of a parent or foster care.

Give Back provides these students the opportunity to go to college and graduate in four years with little or no debt. The organization already has prepaid more than $35 million in scholarships to help more than 1,500 students go to college in seven states, and continues to grow.

A native of Kansas, Peter Mallouk is president and chief investment officer of Creative Planning Inc., one of the largest independent wealth management firms in the country. A graduate of the University of Kansas and its Graduate School of Business, he and his wife, also a KU graduate, are co-founders of KC CAN!, an organization of volunteers dedicated to improving the quality of life of children in Kansas City. Barron's magazine named Peter Mallouk the No. 1 independent financial advisor in America three years in a row.

"Like Bob Carr, Veronica and I are strongly motivated to help those who don't get a fair shake," Peter Mallouk said. "We funded the Kansas arm of Give Back because we want to do our small part to help put as many kids as we can as close to the same starting line as other kids. We don't believe someone's probability of success should be dependent on their ZIP code of birth."

Carr, CEO and founder of Beyond, a cause-based business tools and services company, has designated Give Back as beneficiary of his majority shareholder position in the company. Carr presented the $500,000 check from the Mallouks' Give Back Program to Kansas State University President Richard B. Myers to officially launch the partnership on Oct. 18.

"The Mallouk Give Back program in Kansas, once fully developed, will literally help transform the lives of between 150 to 300 students in their home state," Carr said. "And when one life is transformed in a family or neighborhood, it helps transform the lives of others. Cycles of poverty and marginalization can be broken through higher education."

Give Back provides mentoring and scholarships through a unique long-term model that identifies recipients in the ninth grade to start preparing them for college. Participating students who enter four-year universities upon high school graduation must maintain a minimum 3.0 GPA in high school, take a college preparatory course load and demonstrate strong character. They then attend one of the foundation's partner colleges, such as Kansas State University, where their tuition, fees, and room and board are covered. Every student who has graduated from college through Give Back is employed, and 91 percent of them graduated college in four years.

Without the program, many of the students, who come from low-income families, grew up in foster care or have incarcerated parents, would not have found collegiate success.

"Student success is important to us, and Give Something Back fits well with Kansas State University's land-grant mission," Myers said.

The university will deposit Give Back's $500,000 contribution in an interest-bearing account for four years before participating students, who are Pell Grant-eligible, start attending the university, said Larry Moeder, associate vice president for student life and executive director of admissions and student financial assistance.

"We hope to combine the Give Something Back funds with as many other funding sources as possible, including federal funds and other scholarships our counselors will help students find, to reduce the amount of this grant that we use so we can help more students," Moeder said.

Kansas State University's partnership with Give Back will provide opportunities for transformation as students benefit from the programming and scholarships, and the entire campus community will benefit as well, said Stephanie Bannister, assistant vice president for student life and director of education and personal development.

"Students will transform during their time at K-State because they will realize their dreams and open their minds to new possibilities, which is the opportunity higher education affords," Bannister said. "Working together, our campus community will experience grit, perseverance, heart and determination as we learn and work alongside people with different lived experiences. Transformation is going to happen on all sides."