October 9, 2017
College of Architecture, Planning & Design to dedicate Seaton/Regnier Hall at 2 p.m. Oct. 13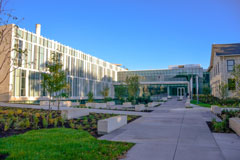 The 195,000 square feet of renovated and newly constructed spaces in Seaton Hall and Regnier Hall will be formally dedicated with a ribbon-cutting ceremony and reception at 2 p.m. Friday, Oct. 13, in the William T. Kemper Foundation, Commerce Bank, Trustee Amphitheater on the south side of Regnier Hall.
"This event marks an important milestone in over 100 years of design education at Kansas State University," said Tim de Noble, dean of the College of Architecture, Planning & Design, or APDesign. "I am so pleased to see our Regnier and Seaton halls not only reflect the qualities embedded in our long-established nationally prominent programs, but configured to build on the unique relationship of the comprehensive design and planning disciplines in APDesign. We are excited to share this moment with all who have made it possible."
With 17 new design laboratories housing 47 studio sections, the facility now supports the educational integration across all disciplines and year levels. The spaces also include a 20,000-square-foot fabrication facility, technology-enriched classrooms, conference rooms and mobile technologies, allowing all public spaces to be used for teaching and collaboration in line with the college's aspirations to build the ideal 21st-century educational environment.
The new facility also includes 21 schedulable critique/class spaces as well as numerous "convertible" spaces inside and out for lounging, teaching and collaborating; an all-new library, gallery and rooftop conferencing area round out the public amenities of the facility. An additional highlight is the 280-seat auditorium with a 4K-laser projector, state-of-the-art sound system and full lecture capture capabilities.
"I am excited to point to a facility that wonderfully reflects our primary values: environmental stewardship, social equity, economic responsibility and aesthetic delight," de Noble said.
The university community and public are all invited to attend the event that begins at 2 p.m. with the dedication ceremony and continues with tours of the facility and reception. Those unable to attend may view the ceremony online.