October 3, 2017
Roman Ganta advances tick-borne research in Australia and New Zealand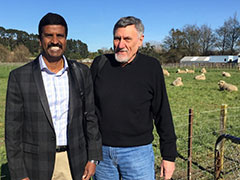 Traveling from one "Land of Oz" to another, Kansas State University's Roman Ganta has found new opportunities for vector-borne disease research down under.
As the director of the Center of Excellence for Vector-Borne Diseases, or CEVBD, in the College of Veterinary Medicine, Ganta and his team gave presentations at an international conference and met with top scientists.
In New Zealand, Ganta explored collaborations with colleagues who are actively researching ticks and tick-borne diseases of importance to animal and human health. He attended the ninth Tick and Tick-borne Pathogen Conference/ first Asia Pacific Rickettsia Conference Aug. 26-Sept. 1 in Cairns, Australia.
Ganta has initiated a research collaboration with the Massy University College of Veterinary Medicine in Palmerston North, New Zealand, to investigate the potential threats of tick establishment in New Zealand from other parts of the world, including those commonly found in North America. This research initiative involves Ram Raghavan in the CEVBD and Kansas State Veterinary Diagnostic Laboratory as another key collaborator.
"I anticipate that this will open new avenues of extended collaborations with New Zealand and also possibly with Australia," Ganta said. "Together, the additional international collaborations have been furthering the scope of the research initiatives from the center."
Ganta gave the following research presentations:
• "Tick-borne disease, mutagenesis, pathogenesis and vaccine development, with particular reference to Ehrlichia chaffeensis," Aug. 23at Massy University, Palmerston North, New Zealand.
• "Ehrlichia chaffeensis mutagenesis: pathogenesis and vaccine development," Aug. 29 at James Cook University, Cairns, Australia.
• "A genetic system for creating targeted mutations to disrupt and restore genes in Ehrlichia chaffeensis (that is broadly applicable to other obligate bacteria," Sept. 1 at the TTP9 Conference, Cairns, Australia.
Raghavan presented the following paper at the conference in Cairns:
• "Scale Issues in Assembling Evidence of Climate Change Effects on Tick-Borne Diseases," Raghavan, R.K., Goodin, D.G., Harrington Jr. J.A., Ganta, R.R., Anderson, G.A.