October 3, 2017
Mid-autumn festival is coming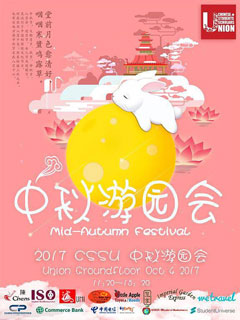 The Chinese Students and Scholars Union will host a mid-autumn festival from 11:30 a.m. to 3:30 p.m. Wednesday, Oct. 4, on the ground floor of the K-State Student Union. The festival combines Chinese Culture and Chinese Characteristics.
You can come at any time during the event.
We will teach you how to make delicious mooncakes and help you create your own Chinese lanterns. There are also many Chinese traditional games for you to have fun and gain prizes. We will teach you how to write Chinese, and you will get a mooncake keychain. Also, learn the translation of your name in Chinese.
A lottery drawing also will take place.
The Chinese have celebrated the harvest during the autumn full moon since the Shang dynasty, 1600–1046 BCE, and it became a festival and started to gain popularity during the early Tang dynasty, 618-907 BCE. The meaning of mid-autumn festival gathering, such as family and friends coming together, or harvesting crops for the festival. It's said the moon is the brightest and roundest on this day, which means "family reunion." This is the main reason why people think mid-autumn is important. Thanksgiving, to give thanks for the harvest, or for harmonious unions praying — asking for conceptual or material satisfaction — such as for children, a spouse, beauty, longevity, or for a good future.
Please bring your friends and have fun!