April 21, 2017
New ambassadors selected to promote K-State Student Union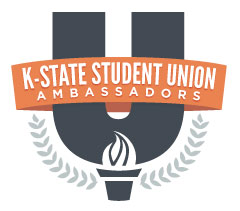 Your K-State Student Union has selected the 2017-2018 Union Ambassadors. The program provides outstanding student leaders with the opportunity to promote the Union to prospective students, on-campus organizations and the Manhattan and K-State communities.
Eight new ambassadors were chosen to join seven returning ambassadors from the 2016-2017 term, with Abby Rouse selected to serve as lead ambassador. Union Ambassadors are the face and voice of the Union. Ambassadors represent the student spirit of the Union, serving as the initial contact point through various customer interactions and are the liaisons between campus organizations and living environments and the Union. They are expected to assist with major campus recruitment events and be actively involved within the K-State community.
The following students are 2017-2018 Union Ambassadors:
Kyle McGuire, junior in marketing, Atchison; Caitlyn Taylor, junior in social sciences, Blue Rapids; Hannah Steinert, freshman in dietetics, Derby; Amber Schaefer, junior in life sciences, Emporia.
From Greater Kansas City: Konnor Pendland, sophomore in landscape architecture, Leawood; Joe Pasley, sophomore in communication studies, and Rouse, junior in life sciences, Lenexa; Courtney Root, sophomore in communication sciences and disorders, Reagan Sheffield, freshman in secondary education and Spanish and Morgan Stahl, junior in civil engineering, all from Olathe; and Abbas Shabbir, sophomore in construction science and management, Stilwell.
Alexis Luinstra, freshman in psychology, Lawrence; Addison Beutler, freshman in early childhood education, Ness City; and Elijah Darey, freshman in medical biochemistry, Wamego.
From out of state: Caroline Reeder, junior in sociology and psychology, Liberty, Missouri.
For more information about the Union Ambassador program, visit union.k-state.edu or call 785-532-6597.