April 6, 2017
Annual spring dinner tonight at campus dining centers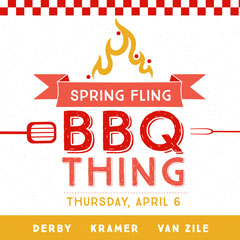 Hey y'all! It's a Spring Fling BBQ Thing and it's happenin' April 6 at dinner at all three K-State dining centers!
It's time to enjoy some mouth-watering, smoked, sauced and seriously fired-up food. We're bringin' the brisket, the chicken, the peppered sausage and all the accompaniments. View the full menu.
Our good friends from Pit Bosses BBQ are butt-over-bird excited to help us out this year. You'll be sampling their 'cue as it is carved in the dining rooms.
So come one, come all to the Spring Fling BBQ Thing. Guaranteed to be GBD — golden, brown and delicious! Guest meal swipes are not accepted for this event.