March 30, 2017
Run to remember those who came before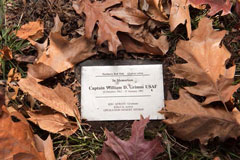 Wildcat Warriors will host the third annual Wildcat Warrior 5K Race and Fun Run at 9 a.m. April 22.
In 2015, Cadet Tanner Lott, now a lieutenant, created an event to raise money and awareness for veterans in the local area and to honor K-State alumni who have been killed in action in service to our country. The inaugural Wildcat Warrior 5K was planned almost entirely by Lott, and raised $700 for the TACP Association and $700 for the Wounded Warrior Foundation.
In 2016, the Wildcat Warriors incorporated the 5K into their plan as an annual event based around the principles of giving back to the military community as Lott had envisioned. The 2016 race proceeds, $1,400, went to the Disabled American Veterans.
This year, the Wildcat Warriors are setting sights on a project Lott was very passionate about, but wasn't able to complete during his time at K-State: Improving the Capt. William Grimm Memorial on K-State's campus. Grimm was the only K-State graduate who died in action during the first Gulf War when his AC-130 gunship was shot down 26 years ago while protecting U.S. marines from Iraqi forces.
The 2017 race route will feature all of K-State's memorials dedicated to those in service of America. Runners will pass by the Vietnam Veterans Memorial, William Grimm Memorial, World War II Memorial, Martin Luther King Jr. Memorial, and K-State's tribute to those lost in World War I: Memorial Stadium. Read more about K-State's memorials.
Wildcat Warriors invite K-Staters and the surrounding community to support the effort to honor Capt. Grimm by participating in this 5K event. Individual registration costs are $30 per person or four-person teams for $25 per person. For those who want something great for the kids or just a little less intense, the 1-mile Fun Run registration is just $15 per person. Prices increase April 1, so register online today and take advantage of the lower price and guaranteed T-shirt. Also, check Wildcat Warriors' official Facebook page for updates and more information.
Wildcat Warriors is comprised of K-State students who are pursuing a commission in the Armed Forces through campus programs. The group's organizational goals include promoting esprit de corps among cadets and enhancement of understanding of the Air Force ROTC program through community outreach.