March 13, 2017
K-Staters' support can make a big difference in someone's life; United Way donations are still needed
Submitted by Communications and Marketing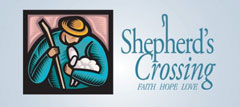 Shepherd's Crossing provides budget counseling, referrals and financial assistance for residents of Riley County and St. George who are unable to pay for their utilities, rent or prescription medication.
In 2016 alone, Shepherd's Crossing filled $8,400 worth of prescriptions, assisted 1,460 households in need, gave $286,800 in aid to families, $142,200 in rent assistance and $135,105 in utility payment assistance, and provided 34 Lions Club and eye doctoral referrals.
This organization was founded in 2001 by pastors involved in the Manhattan Ministerial Association and other members of the community. Their goal was to take care of the many members of the local faith community who are in need; the result is Shepherd's Crossing, an ecumenical ministry that aims to "provide compassionate and caring assistance to those in need of a listening ear and financial support."
Funding for nonprofit organizations like Shepherd's Crossing is provided partially by donations to the United Way campaign. Employees are encouraged to continue to donate any time through HRIS/Employee Self Service so efforts are counted toward the K-State United Way campaign. You can designate a gift to the United Way in your community, to make sure the funds stay local.
Learn more about the campaign and how your donation makes a difference at k-state.edu/unitedway. For more information about Konza United Way and other agencies it supports, visit konzaunitedway.org.
For more information, contact the K-State United Way campaign committee at ksuuw@k-state.edu.