November 4, 2016
K-State United Way campaign makes progress, will continue after Nov. 6
Submitted by K-State United Way Campaign Committee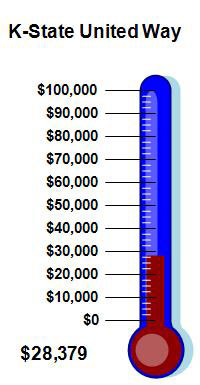 The United Way Campaign Committee thanks all K-State employees who have donated to the United Way campaign. K-Staters have helped make tremendous progress, raising more than 25 percent of the $100,000 goal in less than two weeks.
As of Nov. 2, 145 K-State employees have pledged $28,679 to the campaign.
The United Way campaign will continue after Nov. 6, and we need your help to close the gap to reach our goal. Employees are encouraged to continue to donate any time through HRIS/Employee Self Service so efforts are counted toward the K-State United Way campaign.
United Way improves lives by mobilizing the caring power of our community by offering support through health, education and financial programs for our friends and neighbors when they need it most.
Learn more about the campaign and how your donation makes a difference at
k-state.edu/unitedway. For more information about Konza United Way, visit konzaunitedway.org.
K-State employees who contribute to the campaign will be entered into a drawing for a parking pass or one day off with pay. The total amount raised and prizewinners will be announced at a later date.