November 4, 2016
Twelve electrical and computer engineering students initiated into honorary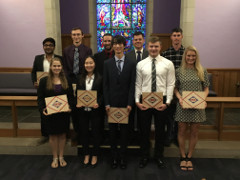 Twelve new members of Eta Kappa Nu, the honor society for electrical and computer engineering students, were initiated into the Beta Kappa chapter of Kansas State University Oct. 26 at Danforth Chapel.
The chapter provides a number of activities for the electrical and computer engineering department, of which the primary service is tutoring for department courses twice each week.
The fall 2016 initiates include Brett Christianson, Lawryn Edmonds, Corey Gaither, James Keeler, Myra McLenon, Md Rakibul Mowla, Matt Rofrano, Daniel Schumm, Harold Vilander, Daniel Wagner, Li Wang and Shangxian Wang.