October 5, 2016
K-State Alumni Association accepting entries for homecoming parade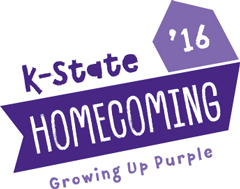 Each year, Kansas State University alumni, friends and the Manhattan community gather for the highlight of All-University Homecoming Week: the parade.
The 2016 K-State Homecoming Parade will take place at 5 p.m. Oct. 21. The K-State Alumni Association encourages all campus groups to participate in the parade.
This year's K-State Homecoming theme is "Growing Up Purple" and marks K-State's 101st homecoming celebration. Homecoming is a universitywide celebration coordinated by the K-State Alumni Association and sponsored by AT&T.
"The parade is one of the community's favorite Homecoming events," said Marcus Kidd, assistant director of student programs for the K-State Alumni Association. "K-State students have the opportunity to show off their school spirit through the floats and chants created specifically for the event, which will journey through downtown Manhattan and Aggieville."
Prior to the parade, the Aggieville Business Association will host trick-or-treating in Aggieville. A pep rally will take place at the Larry Norvell Band Shell in City Park following the parade at approximately 6:30 p.m.
To participate in the parade, groups must register by 5 p.m. Oct. 13. For registration and more information, visit k-state.com/homecoming. Students or student organizations interested in being involved in additional Homecoming week activities should contact the K-State Alumni Association's programs department at 785-532-5070.