October 4, 2016
College of Engineering students attend fall 2016 Engineering Leadership and Innovation program kickoff event
Submitted by Elizabeth Gibisch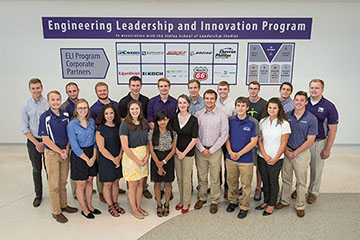 Twenty-one College of Engineering students met for the kickoff event of the Engineering Leadership and Innovation, or ELI, program Aug. 29 in Engineering Hall.
Participants receive a $3,000 scholarship, take leadership and business courses, learn from an industry mentor, meet with industry leaders and practice hands-on leadership within a creative inquiry team.
The program draws on the Staley School of Leadership Studies program, the College of Business Administration, success of student-led College of Engineering creative inquiry teams in national competitions, and a strong connection with corporate partners including BHC Rhodes, Black & Veatch, BNSF Railway, Boeing, Chevron Phillips, ExxonMobil, Koch Industries, MMC Corporation, Phillips 66 and Textron Aviation.
Students who attended the event included:
Back row from left: Jacob Offermann, Kevin Beashore, Jonathan Peuchen, Jacob Studer, William Lies, Devon Ronsse, Eric Gray, Reagan Wood, Justin Schmutz and Nicholas Meyer; front row from left: Cole Dister, Lily Johnson, Cassidy Harper, Casey Bertelsman, Shreya Kumar, Angelica White, Karter Krokstrom, Evan Heronemus, Mariah Brown and Nathaniel Fleming. Not pictured: Ashley Coleman.