September 30, 2016
Join International Service Teams for coffee hour at 4 p.m. today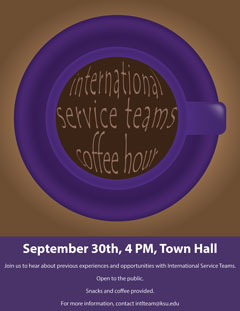 Join K-State's International Service Teams at 4 p.m. Sept. 30 in the Leadership Studies Building's Town Hall for snacks, coffee and dialogue, and learn about students' service-learning experiences in South Africa and the Dominican Republic.
International Service Teams is a program in the Staley School of Leadership Studies.
This is a great opportunity to explore the dimensions of ethical service, international development and learn about the program and how you can engage in such work.
Teams will explore:
The Dream Project nonprofit in the Dominican Republic.
Dynamics of the Cabarete community.
Dominican culture.
Privilege.
Personal growth from service-learning work in South Africa.
Money doesn't equal happiness.
Community vs. commodity.
Different perceptions of wealth.
For more information or to apply for the program, visit the International Service Teams website. Applications are due Nov. 6.