International Teams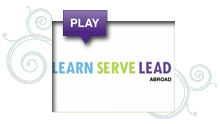 International Teams is a service-learning program of interdisciplinary teams of Kansas State University students. Teams travel and live in communities around the world during the summer break. International Teams work with community partners to engage in local community work abroad. Previous projects have focused on health, education, environmental and sustainability concerns, and youth development. Applications are due in the fall of each year. International Teams members gain leadership experience and develop an appreciation for unique cultures and perspectives during their spring semester and summer abroad.
We are serving in:
Ocean View, South Africa
In Ocean View, South Africa, students work with an organization called Volunteer Mzansi. Each team member is placed at a different project in Ocean View and lives with a host family in the community. Service ranges from assisting in classrooms to working alongside health professionals and community centers.
Cabarete, Dominican Republic
This year students will work with an organization called The Dream Project in Cabarete. Students will be advocates for educational empowerment as they come alongside The Dream Project as counselors for a summer program for at-risk youth. Additionally, students will expand their language as they learn the culture of the Dominican Republic. Participants must be enrolled in or have taken Spanish 3 by the Spring semester or posses a similar degree of language proficiency.
Kartong, The Gambia
In The Gambia, students work with the organization, Sandele Eco-Retreat and Learning Center. The Sandele Foundation exists to support environmental conservation and development in nearby communities. Students' work may range from sea turtle conservation to community leadership training and more.
Nyeri, Kenya
In Nyeri, Kenya, students work with the Children and Youth Empowerment Centre. The CYEC is a residential and educational program for former street dwelling children and youth in Kenya. The needs of the CYEC vary from year to year and could be anything from working directly with youth to creating organizational systems within the centre. Past teams have created after school clubs, worked with the Youth Enterprise Program, created a micro-economy within the centre, and many other tasks.
Kamba Cua, Paraguay
Participants will live and work in the Afro-Paraguayan community of Kamba Cua, 25 minutes from the capital, Asuncion. Our local partner organization, El Grupo Tradicional San Baltazar de Kamba Cua, seeks to enhance the rights and wellbeing of the traditionally marginalized African-Paraguayans. Students will likely teach English education classes, support the establishment of a community computer lab and help to develop computer technology skills. Participants must be enrolled in or have taken Spanish 3 by the Spring semester or posses a similar degree of language proficiency.
Applications for all locations are due November 12 and can be found here.