March 26, 2012
Letter from Athletics Director John Currie
Submitted by Communications and Marketing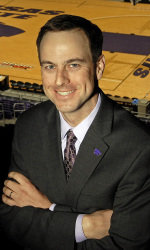 Dear Wildcat Nation,
Greetings from the Little Apple! After several days of needed rain showers, it appears we are in store for a beautiful spring weekend as we host events in baseball and tennis.
It certainly has been a great year so far for our athletics program: in fact, did you know that K-State is one of only five schools in the country this year that went to a bowl game and picked up wins in the NCAA volleyball and both basketball championships? And, we still have the remainder of the spring season to add to those accolades as baseball, tennis, golf, track and field, rowing and equestrian continue their schedules.
Big 12 championships in MHK
We are fortunate this year to be hosting two Big 12 Championships in Manhattan this spring beginning with next week's Big 12 Equestrian Championships, March 30-31. Then in May, be sure to come out to the Big 12 Outdoor Track and Field Championships as some of the world's top athletes will be competing right here in our backyard. Check k-statesports.com and big12sports.com next week for information on the equestrian championships and we hope to see you out at TimberCreek Stables next weekend!
K-State/Texas baseball series nationally televised on FCS
When we launched K-StateHD.TV last year, one of our goals was to put ourselves in a position to provide additional content and even live events, in high definition, to our respective broadcast partners as part of our continuing effort to add exposure for K-State and enhance the world-class student-athlete experience. Earlier this week we announced in conjunction with Fox College Sports an agreement to distribute K-StateHD.TV programming to a national audience, and K-StateHD.TV made its national television debut this past weekend with the Texas baseball series. The hard work that our staff has put into the growth of K-StateHD.TV and the production and broadcast quality for our worldwide audience has been greeted with rave reviews by our fans and media partners. This collaboration with Fox College Sports to distribute our programming across the nation on its platform is another step of showcasing our brand to our worldwide fan base, and we appreciate their partnership. Click here for more details.
Hanna Wiltfong earns postgrad scholarship from NCAA
I would like to congratulate senior rower Hanna Wiltfong as she was recently awarded an NCAA Women's Enhancement Program Postgraduate Scholarship for Careers in Athletics. Hanna was one of only 13 female student athletes in the country to earn the $6,000 scholarship, which will be used towards a sports-related graduate program. Congrats, Hanna, and we wish her the best as she furthers her educational opportunities.
Football tickets still on sale/spring practice ahead
As a reminder, 2012 football season tickets for our seven-game home schedule are on sale. Be sure and order today as several sections have already sold out in anticipation of an exciting 2012 season! Several options and price levels are available as well as payment plans – before March 30 – that allow you to split your cost into five equal payments. The early bird deadline is Friday, March 30, so call the ticket office at 1-800-221-CATS or visit kstatesports.com to order your tickets today. Coach Snyder and our team will open spring practice April 4, while our 2012 Purple/White spring game will be at 1:10 p.m., Saturday, April 28.
Other spring updates
Our rowing team, led by head coach Pat Sweeney, opened the spring season last weekend in Texas with a strong showing.
That will do it for today. Good luck to all of our teams competing this weekend, and thank you for all that you do in support of our 440-plus student athletes.
Go Cats!