March 26, 2012
Landing soon: Former astronaut Hawley to deliver university's Neff Lectureship in Physics
Submitted by Communications and Marketing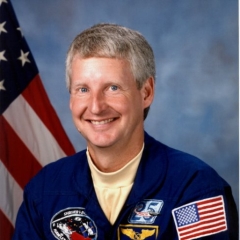 The countdown has begun for a lecture at Kansas State University by former astronaut Steven Hawley, the next speaker in the department of physics' James R. Neff Lectureship in Physics series.
Hawley, now a professor of physics and astronomy at the University of Kansas, will present the lecture "Wings of Orbit" at 4:30 p.m. today in the Town Hall Room at the Leadership Studies Building. The lecture is free and the public is invited.
"As a former astronaut, Dr. Hawley has been involved in NASA policy decisions and his firsthand space flight stories will surely entertain our university community," said Chii-Dong Lin, university distinguished professor of physics and Hawley's campus host.
Hawley, a Kansas native who grew up in Salina, is a veteran of five space flights, logging 770 hours in space during his NASA employment from 1978 to his retirement in 2008. During his flights, he helped to deploy various satellites and conduct many different experiments in space, including photography experiments using the IMAX motion picture camera and deploying the Hubble Space Telescope -- the first of NASA's four Great Observatories satellites.
His final space mission was in 1999 to deploy the Chandra X-ray Observatory -- the third of the Great Observatories satellites. The Chandra satellite is used to detect X-rays in space that are otherwise absorbed by the Earth's atmosphere.
From 2002 to 2008, Hawley served as director of NASA's Astromaterials Research and Exploration Science Directorate, which conducts research in planetary and space science, including acquisition, curation and research of astromaterials and human exploration science.
Hawley earned a bachelor's degree in physics and astronomy from the University of Kansas in 1973, and a doctorate in astronomy and astrophysics from the University of California, Santa Cruz, in 1977. After retiring from NASA, he returned to KU to teach in 2008 and became the director of the university's engineering physics department in 2010.
The lectureship is named after James R. Neff, an alumnus of the university. Neff was an internationally recognized orthopaedic surgeon and professor at the University of Nebraska Medical Center in Omaha. He developed a surgical implant with a titanium intramedullary nail known as the Neff Nail.
The lectureship is funded by an endowment established with a bequest from Neff, to perpetuate and honor his parents, Everett and Florine Neff, and further represent Neff's gratitude for the opportunities and education that he received at Kansas State University.