March 26, 2012
Education is the greatest gift: Elwyn Topliff Scholarship in Agriculture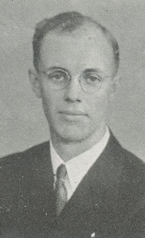 What does it take to become a good farmer? To the late Elwyn Topliff, it was much more than hopping on a tractor and spending time out in the field. It was something that required just as much intelligence as hard work – a science.
Topliff, who grew up and farmed in Jewell, graduated from K-State's College of Agriculture in 1939. After serving in the U.s. Navy as an aviation machinist during World War II, he returned to Jewell County to begin his career farming and raising livestock, eventually retiring in Beloit.
He died July 14, 2007, three days shy of his 92nd birthday. Because of his wonderful experience at K-State, he included the university in his estate plans. With a charitable bequest, his legacy will live through an endowed scholarship. The Elwyn Topliff Scholarship in Agriculture will support generations of K-Staters to come.
His grandson, Adam Topliff, Wamego, recently shared reflections on his grandfather's life, the experience of working with his family to set up the scholarship and the importance of philanthropy.
Talk about your grandfather — what kind of impact did K-State have on him?
K-State had a profound effect on him. His education helped him learn how to go out on his own and become a successful farmer. The university's overall promotion of agricultural education was very important to him. He wanted to give back to help young people have the chance to receive the same K-State education, particularly those who may not have the means to attend college – and then be able to use it to become prosperous, successful members of our country in an agriculture-related field.
What was the experience like establishing the scholarship?
It was phenomenal — above and beyond what I expected from a university. The Kansas State University Foundation made sure we fully understood the process: the steps by which everything would take place, the timeline, how an endowment works, and took time to make sure all of our questions were answered.
What would you say to others who are interested in doing the same?
For our family, one of the best benefits is the people who are working behind the scenes to make this happen. They always have the donors' interests in mind, know the way to make a gift work best — how to make it last and have the greatest possible impact. What's also great is how K-State continues to make connections between donors and students at scholarship banquets, which allow donors to interact with the young people who are the direct beneficiaries of their gift. The K-State community is so passionate about taking care of their own; there's a real sense of family and trust.
Why is philanthropy important?
As the world changes and becomes more competitive, having a good education is tremendously important. I think my grandfather was always very proud of his K-State education. Being an educator myself, I see it as the door that opens up so many new avenues for people. I believe providing the opportunity for others to pursue an education is the greatest gift we can give.