April 26, 2016
A letter from interim President Myers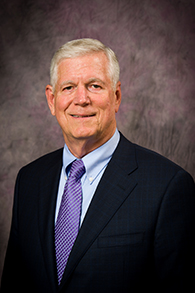 Dear K-State students,
I am honored to serve as your interim president. It is an exciting time to be at Kansas State University.
I was in your shoes once as a K-State student. Born and raised in Merriam, I graduated from K-State in 1965 and married my wife, Mary Jo, at the chapel on the Manhattan campus. After joining the Air Force through K-State's ROTC program, I was privileged to serve our country in several ways, including as chairman of the Joint Chiefs of Staff, advising President George W. Bush and Secretary of Defense Donald Rumsfeld. Additionally, I have commanded our forces in Japan, the Pacific, the U.S. Space Command, Air Force Space Command and North American Aerospace Defense Command at Peterson Air Force Base, Colorado.
I have come back to Kansas State University because I believe strongly in the university's mission and because K-Staters are a great group of people. I am thrilled to be a part of K-State's ongoing commitment to excellence and inclusion as well as progress to its 2025 goals of being a Top 50 public research university.
As tomorrow's leaders, you are an important part of the K-State family and give the university vitality. I look forward to hearing from the bright and successful students who make Kansas State University such a great place. If you see me on campus, particularly in Call Hall indulging in my greatest weakness, say hi and introduce yourself. Lastly, best wishes to each of you as you prepare for the end of the semester.
With K-State Pride,
Richard B. Myers
Interim President