April 1, 2016
Jonathan Catherman to present high energy lecture for leadership event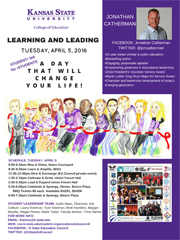 Jonathan Catherman, senior consultant with FranklinCovey's Education Practice, was recently recognized and awarded by the White House for his service efforts. Catherman will discuss the books, "The 7 Habits of Highly Successful People," and "The Leader in Me," during three high energy lectures at a Learning and Leading event Tuesday, April 5:
1:30-2:15 p.m. and 2:45-3:30 p.m. in the K-State Student Union's Forum Hall.
5:30-7:30 p.m. in Bosco Student Plaza.
Catherman's presentations are for students, faculty, staff and the public.
A barbecue meal will be served from 5:30-6:15 p.m. Tickets for the meal can be purchased in advance from 006 Bluemont Hall in the dean's office. Meal tickets will not be sold at the event. Catherman and the K-State Pep Band will be on stage in Bosco Student Plaza from 6-7:30 p.m. in a "Celebrate and Synergize" presentation.
Catherman is a high-energy speaker, and water balloons, super balls and other objects will join the audience from the stage. His interactive presentation with the audience will inspire the leader in everyone.
Catherman has worked in private and public education for 23 years. As a sociologist and educator, Catherman is dedicated to understanding what mindsets, skillsets and toolsets best influences the character and leadership development of today's emerging generation.
An international bestselling author, award-winning cultural strategist and education consultant, Catherman speaks worldwide to diverse audiences of all ages. His contagious energy and passionate speaking style engages and inspires, while his clear vision and practical instruction clarifies what leadership principles and structural relations empower greatness in people and organizations.
For his success in the development and delivery of youth mentoring resources and programing, Catherman was awarded the 2016 President's Volunteer Service Award and Martin Luther King Drum Major for Service Award.