November 20, 2015
Office of Student Activities and Services presents student organization awards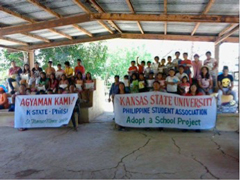 The Office of Student Activities and Services extends a special thank you to everyone who dedicated their time, energy and effort to the student organizations of Kansas State University. This year, our office took the opportunity to recognize a few more organizations for their work over the past year.
These awards include Advisor of the Year, Student Member of the Year and Student Organization Event of the Year. This year we received 19 nominations for these awards, each award recipient will be recognized for their hard work and dedication to their student organization at the Blue Key Leadership Appreciation Reception in the spring.
Award recipients include:

• Sandy Klein serves as the advisor to the College of Agriculture Ambassadors. The multiple members who nominated Klein stress that her love and dedication for her students is what makes their organization so successful. "Sandy's love for K-State Ag comes second only to her passion for helping students succeed," one nominator said.
• Justin Haun is an extremely involved and active member in the College of Education Student Council. He was nominated by a multitude students and staff. His passion and enthusiasm for the success of not only his organization, but also those around his is beyond compare.
• The Philippine Student Association hosted the event Adopt-a-School Bingo Project. This event included a fundraising bingo night in Manhattan that included more than 250 participants and raised more than $4,000. Those funds raised were utilized by the organization to purchase basic school supplies for a school in need in the Philippines for a year. "In the words of many of these schoolchildren, they are going to be even more dedicated to doing their best in school knowing that there are people who do not even know them but are willing to help them with their education," a member of the association said.