October 2, 2015
Josh Hobbs joins Kansas Forest Service
Submitted by Jennifer G. Williams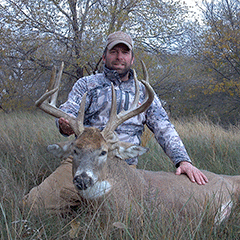 The Kansas Forest Service welcomes Josh Hobbs, rangeland fire and wildlife ecologist, to its team.
Hobbs' office is in Hays. He graduated from Oklahoma Panhandle State University's biology department with bachelor's degree in biology and chemistry. While at OPSU, he became very involved in the fire department, and was promoted to assistant chief for Goodwell, Oklahoma, for nearly five years. Also at OPSU, Hobbs trained to be the fire and life safety inspector for OPSU under direction of the Oklahoma State University fire marshal. From Oklahoma, Hobbs was selected to take on the awesome responsibility of design and construction of Horse Thief Reservoir in Jetmore.
Previous to working with the Forest Service, Hobbs was a technician for the Kansas Department of Wildlife and Parks' fisheries and wildlife biologists at the Glen Elder Wildlife Area.
Hobbs' hobbies include fishing, trapping and hunting. He's loves being in a career that benefits nature, and instills a love of nature in others.