April 1, 2015
Customize your K-State summer April 1 and 2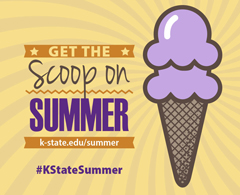 Still figuring out your summer plans?
Find out how to mix and match summer classes with jobs, internships and other experiences to customize your K-State summer.
Get information and win some K-State summer giveaways from 11:30 a.m. to 1 p.m. on the following dates and locations:
Wednesday, April 1, at Kramer Dining Center
Thursday, April 2, at Derby Dining Center
Can't make it to an event? Contact the summer school coordinator, Jo Maseberg-Tomlinson, at jam4545@k-state.edu or 785-532-2570, or visit the K-State summer website.