April 1, 2015
Graduate students: Attend free financial workshop
Submitted by Christyne Stephenson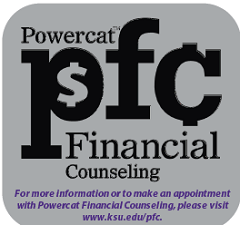 Powercat Financial Counseling invites all graduate students to Student Loan Repayment and Forgiveness from 1:30-2:30 p.m. Friday, April 3, in Room 227 of the K-State Student Union. This event will immediately follow the Graduate Student Council's workshop, Communicating Your Research to the Public, from 12:30-1:30 p.m.
This is a free workshop for graduate students presented by Christyne Stephenson, the graduate research assistant for Powercat Financial Counseling. Stephenson will discuss the joy of student loans, including the basics of student loans, repayment plans and tips, tax and credit implications of your loans, and forgiveness programs you may be eligible for. She also will discuss SALT and how it can help you manage your loans and more.
This presentation is the final part of a three-part financial workshop series. These presentations are brought to you by Powercat Financial Counseling as part of a grant by the Council of Graduate Students designed to enhance financial literacy among graduate students with funding by TIAA-CREF.